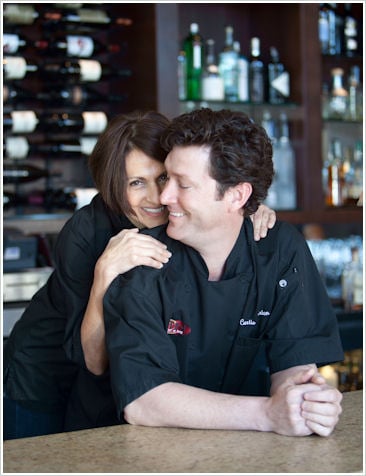 Esin and Curtis deCarion are a culinary match made in heaven. Well, make that Johnson & Wales University in Charleston which seemed like paradise to them. As their friendship bloomed at culinary school, they discovered a mutual passion for reading cookbooks, crafting recipes, and talking incessantly about food.

Married with two sons, Esin and Curtis have served up American food with Mediterranean flare since 1998. Before they opened Esin Restaurant in Danville's Rose Garden center in 2008, they ran the popular Café Esin a few miles away in San Ramon.

Curious, adventurous, and caring, the deCarions meticulously oversee each meal for their guests. They are fussy about everything at the restaurant from the pristine dining room to the freshness of each ingredient. The couple also takes extra care to mentor and train their staff. Curtis and Esin attract food-loving servers who instinctively understand guests' needs. They nurture a spirit of teamwork and independent thinking. And keep a keen eye on the environment by recycling and using many local purveyors.
Esin and Curtis opened
Revel Kitchen & Bar in historic downtown Danville in 2014. Located in the heart of Lafayette,
Social Bird is the third restaurant venture from the couple. They are both highly popular upscale taverns offering local, natural, sustainable ingredients, craft beers and cocktails.